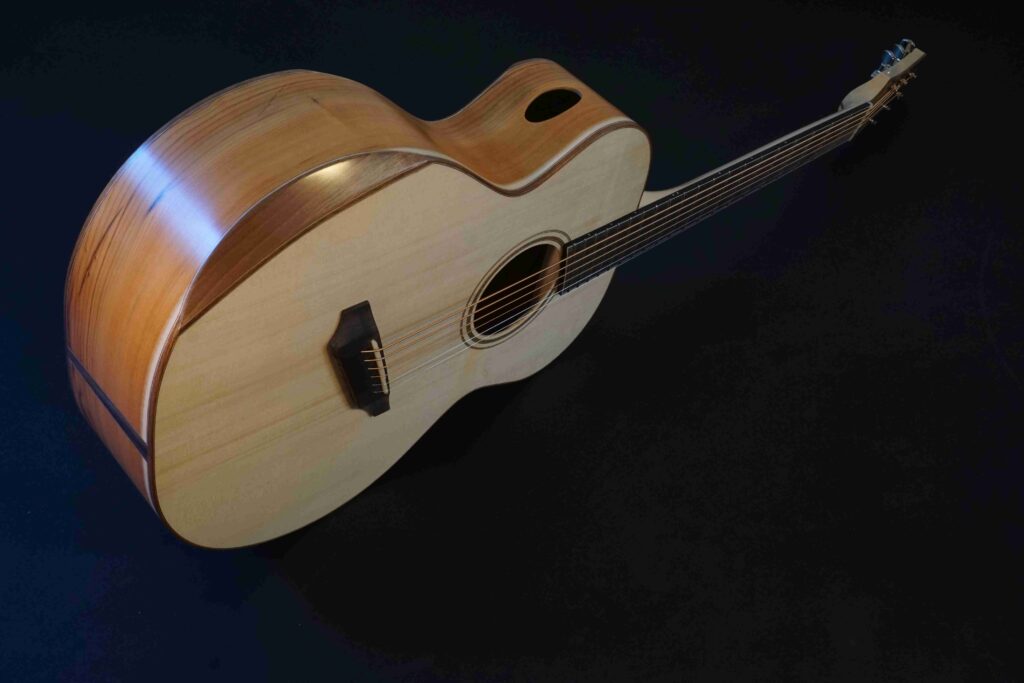 Im Auftrag eines Kunden verkaufe ich diese von mir gebaute Baritongitarre:
Baujahr 2021, Multiscale Griffbrett, Fichtendecke, Eibenbody, Ahornhals, Steg und Griffbrett aus Sonowood Nussbaum (also zu 100% aus Schweizer Hölzern gefertigt), eingebautes LR Baggs Anthem Tonabnehmersystem, Armrest, Ribbevel und Zargenschallloch.
Pre owned und naturally aged (ein paar kleine Gebrauchsspuren auf Decke und Boden).
Der Besitzer hat sich aus gesundheitlichen Gründen entschlossen, das Instrument zu verkaufen.
Preis mit Koffer CHF 3950.-.
Kann in meiner Werkstatt besichtigt und angespielt werden.
For a client I'm selling this Baritone Guitar, finished in 2021:
Made 100% with local swiss wood: spruce top, yew body, maple neck, Sonowood walnut bridge and fingerboard.
LR Baggs Anthem pickup system, multiscale fingerboard, armrest, ribbevel and second soundhole.
Pre owned and naturally aged (a couple of scratches in the top and the back, none going through the finish).
The guitar is being sold because of health issues.
Price with case CHF 3950.-
Send me a message to check it out in my shop.
Pre Owned Baritone Guitar for sale